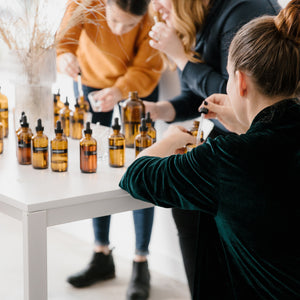 LULUMIÈRE
Candle Workshop
Regular price
$75.00
$0.00
Register for a Lulumière Candle Workshop
Candle making classes are available at our University District candle studio in Seattle. You will learn about each component of your candles + create your own scent blends. You'll get to hear about our personal connection to candle making, as well as learn some best practices so that you can get the most out of all the candles you already have. Register with a friend to enjoy this relaxing activity together!
This booking is for a premium 2-candle make & take class. Active class time is approximately 30 minutes + an additional idle wait time of 1 hour for the candles to set. Optional next day pickup is also available if you would like to leave after the initial 30 minute active class time. Space is limited. We'd love to have you join us!
Please contact us if you have a group of 8 or more and would like to request a private workshop. 
Upcoming workshop dates
Saturday, September 23 at 10:00am (sold out)
Monday, October 2 at 6:00pm (4 spots left)
Tuesday, October 17 at 6:00pm (5 spots left)
Saturday, October 28 at 10:00am (open)
Wednesday, November 15 at 6:00pm (open)
*If you'd like to gift a workshop seat, we suggest purchasing a gift card toward the registration fee. 
Classes are held at the Lulumière candle studio: 5200 Roosevelt Way NE, Seattle, WA 98105. There is free parking in front of the space on Roosevelt Way NE and around the shop.
---
More from this collection