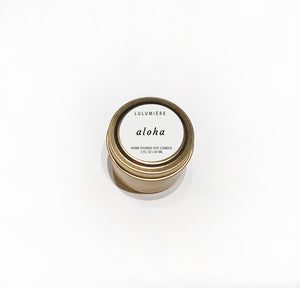 LULUMIÈRE
Aloha Signature Mini Candle
Regular price
$9.00
$0.00
Mini candles are so much fun in multiples or paired with other gifts! We love this size for a small powder room.
The LULUMIÈRE Aloha candle was inspired by the beauty, harmony & love of Hawaii. We thought of the islands' salty ocean air, warm sandy beaches & rich pineapple groves.
Smells like: Island pineapple, coconut milk, cantaloupe, jasmine water
Size
: 2 fl oz.
Burn time
: 10-15 hours
Source
: Made in Seattle, WA
Ingredients
: US grown soy wax, phthalate-free perfume oils, essential oils & a cotton paper wick.
Finish
: Reuse or recycle candle tin
---
More from this collection