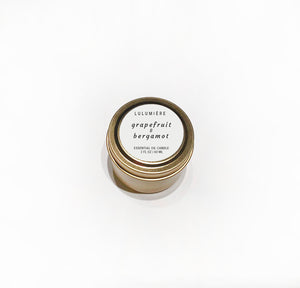 LULUMIÈRE
Grapefruit & Bergamot Mini 100% Essential Oil Candle
Regular price
$9.00
$0.00
Mini candles are so much fun in multiples or paired with other gifts! We love this size for a small powder room.
A true aromatherapy candle with just the simplest ingredients to fill your space. All botanical. No synthetic fragrances. Lots of care. You will enjoy a lighter, more honest scent when burning a candle scented only with pure essential oils.

The blend of fresh, juicy Grapefruit with aromatic, calming Bergamot citrus makes for a soothing & luxurious scent experience. 
A beautiful choice for those who are sensitive to perfumes or stronger smells. 
Essential oil blend includes: 
Pink Grapefruit essential oil, Bergamot essential oil, Lemon essential oil
Size
: 2 fl oz.
Burn time
: 10-15 hours
Source
: Made in Seattle, WA
Ingredients
: US grown soy wax, 100% therapeutic grade essential oils & a cotton paper wick.
Finish
: Reuse or recycle candle tin
---
More from this collection