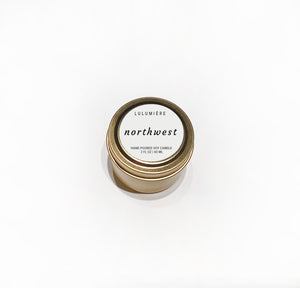 LULUMIÈRE
Northwest Signature Mini Candle
Regular price
$9.00
$0.00
Mini candles are so much fun in multiples or paired with other gifts! We love this size for a small powder room.
Northwest is Lulumière's quintessential Signature candle. It is very much inspired by the towering trees that surround the Pacific Northwest with an ode to the fresh, crisp air that comes off the mountains. Northwest is primarily woodsy yet has a fresh, citrus finish. One of the very best sellers, Northwest harmoniously brings the great outdoors into every living space.
Smells like: Pine, evergreen trees, moss, citrus rind
Size
: 2 fl oz.
Burn time
: 10-15 hours
Source
: Made in Seattle, WA
Ingredients
: US grown soy wax, phthalate-free perfume oils, essential oils & a cotton paper wick.
Finish
: Reuse or recycle candle tin
---
More from this collection